---
---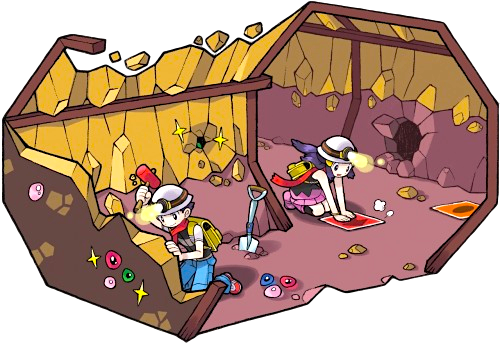 __________________________________________________________________

You are obligated to start here in order to complete the quest, the fragments won't appear until you activate the script by talking to Fossil Maniac Charles


・Be sure to be Hoenn Champion before starting this quest, this is the first requirement.
・Go Route 114 in Hoenn, find

Fossil Maniac Charles

in his house and talk to him about the permit.





・You now have to collect 6 different fragments spreaded around all the excavation sites (excluding the Wondrous Site).
Please note that you don't have to enter in the sites.
Get a Pokemon with Rock Smash (can be found in Mauville City) or a Pick Axe and hit all the breakable rocks around the enter of the sites.
The fragment that you're looking for is hidden in one of the rocks.


Haunted Site

⎪Rusturf Tunnel⎪Near Verdanturf Town

---

Mineral Site

⎪Route 115⎪North Rustboro City

---

Feral Site

⎪Fiery Path⎪East Lavaridge Town

---

Glacial Site

⎪Route 103⎪North Oldale Town

---

Natural Site

⎪Route 119A⎪South Fortree City

---

Historical Site

⎪Route 111 Desert⎪East Lavaridge Town

---

Wondrous Site

⎪Route 114⎪West Fallarbor Town


・Once you have the 6 fragments, come back to Route 114 and talk again with

Fossil Maniac Charles

. He will ask you to pay 100.000 Pokedollar in order to buy the permit.

・ You are now owner of the Archaeologist Permit and can start visiting the different sites !

_____________________________________________________________________

There are different tiers of expertise in archaeology. The tier depends on the discoveries you have made. You get 1 "Discovery Point" by smashing the rocks inside each site. With every tier you get access to more Pokemon and items. You can verify your tier by talking to

Gingery Jones

in

Glacial Site

.

If you encounter a spawn you're not "expert" enough to get, the Pokemon will flee or the item gets destroyed. You'll however gain a "Bonus Discovery Point" each time you'll encounter a Pokemon who fled or if the item gets destroyed. As the range of the bonus may differ according to the tier of the encountered Pokemon, I won't specify the said bonus.

There's also one Shiny Rock per site, you need to have the item Pickaxe (75c in the shop) to find something there.
Besides the Pokemons from normal rocks, you can find exclusive Pokemon and items.
Be careful and don't hope finding a Shiny Pokemon in this special rock according to its name. All Pokemon in Excavations Sites are Shiny Locked !


_________________________________
In every site you'll find some Artifact Pieces that can be traded in

Historical Site

for items by talking to

Gingery Jones

.




---

Fossils

:

→

Root Fossil (300)

→

Claw Fossil (300)

→

Old Amber (400)

→

Sail Fossil (500)

→

Jaw Fossil (500)

→

Skull Fossil (750)

→

Armor Fossil (750)​

---

Vitamins

(10 per 75 Artifact Pieces)

:

→ Protein

→ Calcium

→ Carbos

→ PP Up

→ Iron

→ Zinc

→ HP Up​

---

Medicinal Herbs

(price for 35 Artifact Pieces)

:

→ Heal Powder (30)

→ Energy Powder (24)

→ Energy Root (14)

→ Revival Herb (6)​

---

Special items

:

→ Grip Claw (150)

→ Protector (250)

→ Reaper Cloth (250)

→ Focus Sash (30)

→ Wide Lens (150)

→ Air balloon (30)​

---

TM moves

:

→ TM23 - Dragon Rage (150)

→ TM27 - Fissure (150)

→ TM69 - Roost (125)

→ TM81 - Brick Break (125)

→ TM115 - Shadow Claw (100)​

___________________

Cooldown before re-spawn of rocks is 22 hours real time.
The necessary Discoveries for the tiers are based on doing the excavation without Membership and without Pick Axe.
The schedules to meet the different Pokemon are based on the in-game Poke Time. If nothing is specified, it means that the Pokemon spawns all the time.
Don't forget that all findable Pokemon in Excavation Sites are Shiny Locked.





Haunted Site




---

• Tier 0 •

Gastly (12:00 - 23:59)

Shuppet (00:00 - 11:59)

• Tier 1 •

(1,200 Discoveries)

Misdreavus (12:00 - 23:59)

Duskull (00:00 - 11:59)

• Tier 2 •

(2,400 Discoveries)

Golett (00:00 - 11:59)

• Tier 3 •

(3,200 Discoveries)

Litwick (12:00 - 23:59)

• Findable common items •

Ultra ball

Rare Candy

Escape Rope

Repel

All fossils

• Shiny Rock •

Misdreavus (12:00 - 23:59)

Duskull (00:00 - 11:59)

Golett (00:00 - 11:59)

Litwick (12:00 - 23:59)

Lunatone (00:00 - 12:59)

Aron

Reaper Cloth (2%)

TM115 - Shadow Claw (2%)

Rare Candy (5%)

All fossils (1%)

---

After

5000

discoveries : Move Tutor →

Sucker Punch

for 10k by talking to

Gingery Jones

.

---





Mineral Site




---

• Tier 0 •

Onix

• Tier 1 •

(1,000 Discoveries)

Nosepass

• Tier 2 •

(1,600 Discoveries)

Durant

Drilbur (5%)

• Tier 3 •

(3,200 Discoveries)

Klink (2%)

• Findable common items •

Rare Candy

Escape Rope

Fresh Water

All fossils

• Shiny Rock •

Nosepass

Durant

Drilbur (10%)

Klink (7%)

Rare Candy

Grip Claw

TM81 - Brick Break

All fossils (1%)

---

After

5000

Discoveries : Move Tutor →

Explosion

for 10k by Talking to

Gingery Jones

.

---





Feral Site




---

• Tier 0 •

Houndour (13:00 - 23:59)

Numel (00:00 - 11:59)

• Tier 1 •

(2,400 Discoveries)

Zangoose (00:00 - 12:59)

Torkoal (13:00 - 23:59)

• Tier 2 •

(3000 Discoveries)

Heatmor (13:00 - 23:59)

• Tier 3 •

(3,200 discoveries)

Deino (00:00 - 12:59)

Mawile (00:00 - 12:59)

Pawniard (13:00 - 23:59)

• Findable common items •

Rare Candy

Escape Rope

Repel

All fossils

• Shiny Rock •

Houndour (13:00 - 23:59)

Numel (00:00 - 11:59)

Torkoal (13:00 - 23:59)

Deino (00:00 - 12:59)

Heatmor (13:00 - 23:59)

Zangoose (00:00 - 12:59)

Mawile (00:00 - 12:59)

Pawniard (13:00 - 23:59)

Litleo (5%) (13:00 - 23:59)

Rare Candy (5%)

TM23 - Dragon Rage

Grip Claw

All fossils (1%)

---

Once you reach

2,400

Discoveries, you'll have access to

Boss Gingery Jones

.

---





Glacial Site




---

• Tier 0 •

Wailmer

• Tier 1 •

(1,200 Discoveries)

Snorunt

• Tier 2 •

(2,400 Discoveries)

Clauncher

• Tier 3 •

(3,600 Discoveries)

Bergmite

• Tier 4 •

(4,800 Discoveries)

Cyrogonal

Vanillite

• Findable common items •

Rare Candy

Fresh Water

All fossils (you have to be MS)

• Shiny Rock •

Snorunt

Clauncher

Bergmite

Smoochum (10%)

Cyrogonal

Vanillite (5%)

TM 105 - Scald

Rare Candy (5%)

Wide Lens

All fossils (1%)

---

Talk to

Gingery Jones

, he will tell you how many Discoveries you have.

This is the only NPC that will give you this information.

---





Natural Site




---

• Tier 0 •

Seedot

• Tier 1 •

(1,200 Discoveries)

Shroomish

• Tier 2 •

(1,800 Discoveries)

Skiddo

• Tier 3 •

(2,400 Discoveries)

Deerling

• Tier 4 •

(3,200 Discoveries)

Ferroseed

• Findable common items •

Rare Candy

Fresh Water

All fossils

• Shiny Rock •

Seedot

Shroomish

Skiddo

Ferroseed

Deerling

Macho Brace

Rare Candy (5%)

TM15 - Hyper Beam

All fossils (1%)

---

After

5000

Discoveries : Move Tutor →

Super Fang

for 10k by talking to

Gingery Jones

.

---





Historical Site




• Tier 0 •

Makuhita

• Tier 1 •

(1,200 Discoveries)

Meditite

Sawk (4%)

Throh (4%)

• Tier 2 •

(3,200 Discoveries)

Sandile

• Tier 3 •

(4,000 Discoveries)

Mienfoo

• Findable common items •

Rare Candy

Ultra ball

All fossils

• Shiny Rock •

Makuhita

Meditite

Sawk (4%)

Throh (4%)

Mienfoo

Focus Sash

TM138 - Sleep Talk

Rare Candy (5%)

All fossils (1%)

---

After

6000

Discoveries you can revive Kanto, Hoenn and Kalos fossils by talking to

Gingery Jones

for 10k per revive.

---





Wondrous Site




---

• Tier 0 •

Swablu

• Tier 1 •

(1,200 Discoveries)

Snubbull

• Tier 2 •

(2,400 Discoveries)

Axew

Dedenne

• Tier 3 •

(3,200 Discoveries)

Klefki

• Findable common items •

Ultra ball

Rare Candy

Escape Rope

Repel

All fossils

• Shiny Rock •

Swablu

Snubbull

Dedenne

Klefki

Rare Candy (5%)

Shiny Stone (1%)

Macho Brace (1%)

All fossils (1%)

---
---
Contribution
Leitah

, for giving me a lot of useful information to complete this guide.
Sharlank, original owner of the former version of the guide :

Hoenn Excavation Sites Spawn


Tymerod, and his revamped version of the guide :

Hoenn Excavation Sites
​
Last edited by a moderator: